Hi Everyone!!
Please join us today for the Really Reasonable Blog Hop!!
Whoot, Whoot!!
IT"S BLOG HOP DAY!!
If you are here you just came on over from
Kathy's Blog
and are on the right track. If not, why not head back to the
RRR Blog
and start from the beginning so you don't miss any of the terrific projects from my teamies.
Really Reasonable Ribbon
we are kicking of this months Blog Hop and showing you
September's Ribbon Club Assortment Too Cute To Spook Mix
. This collection is just perfect for Halloween.
I am so excited to used this up for Halloween. I hope you get a chance to grab this assortment for your Halloween decorating. :D
Just look at these wonderfully fun colors the orange, purples,greens and the 3/8 inch grosgrain and satin ribbons are just lovely.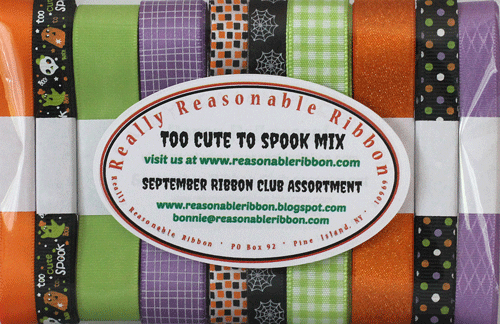 I couldn't help myself when I saw this ribbon assortment I had to make a Halloween Wreath.
For center of my wreath I used an old Halloween window decoration
I had for years. It like a sun catcher, you put it in the windows and it
shines pretty like stained glass. But this is made from plastic. I glued it
down in the middle of the wreath.
Here is a close up of the the wreath.
I added lights to back of it.
To make the wreath I wrapped Black Satin w/grosgrain edging around the
wreath first then I wrapped the
Gauze Print on Grape Satin Ribbon. I then tied
all the ribbons around on top of the black and purple ribbons. I did double
up some of the ribbons.
Aren't these ribbons so adorable and beautiful?
They are just perfect for Halloween.
Thank you all for stopping by today. You can find these wonderful Halloween ribbons at
Really Reasonable Ribbon store
. And join us for a our next fun challenge coming up this week.
Next you will want to head over to
Cherry's Blog
to see her wonderful project.