Happy Blog Hop Day!!
If you are here you just came on over from
Kathy's Blog
and are on the right track. If not, why not head back to the
RRR Blog
and start from the beginning so you don't miss any of the terrific projects from my teamies.
Really Reasonable Ribbon
we are kicking of this months Blog Hop and showing you the this months
August

Ribbon Club Assortment - Colors of Autumn
.
T
his collection is a great ribbon assortment for all your Fall Projects you got in mind - cards, banners, scrapbook pages, mini albums, home decor or many other projects. You don't want to pass this ribbon assortment up!!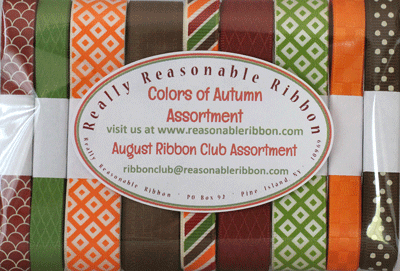 Here is my project using this awesome ribbon assortment
I created a little pumpkin decoration for my dining room table.
I cut burlap into about 2.5 x 2.5 squares, but I didn't really measure
I just cut to the size I thought would best fit around the
small pumpkin.
I used TH walnut distress inks on the edges of the
squares and hot glued them onto
the small pumpkin.
I then took the
3/8"Diamond Satin Kiwi Green and
3/8"Checkerboard Satin Ribbon Tangerine
it around the stem twice. I then took some more of those
beautiful
flowers
Here is a close up of how I did a cascading flower effect
down the pumpkin using Wild Orchid flowers from the
Thank you all so much for stopping by today, I really appreciate all your sweet comments you leave me. If you like any of these beautiful ribbons please go to ReallyReasonableRibbons.com to get some of these ribbons or join up for the

Ribbon of the Month Club

and get these wonderful ribbons every month.
Next you will want to head over to
Cherry's Blog
to see her wonderful project.