Hey Do you know what day it is????
If you are here you just came on over from
Kathy's Blog
and are on the right track. If not, why not head back to the
RRR Blog
and start from the beginning so you don't miss any of the terrific projects from my teamies.
Really Reasonable Ribbon
we are kicking of this months Blog Hop and showing you the this months
July Ribbon Club Assortment - Pink and Purple Collection
So if you like Girlie Girlie stuff this is the collection you don't want to pass up!! I am in LOVE with this collection but than again I love every collection that comes out each month. LOL
Just look at these beautiful Pinks and Purples and the organza one with flowers is just darling!!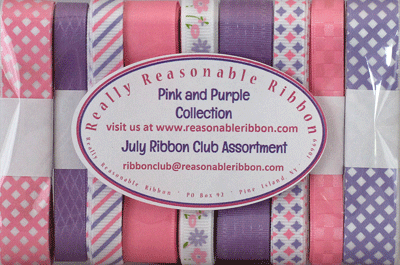 Okay, so last Blog Hop for July I made a couple of cute hair bows. Well for this months Assortment I made another hair accessory using this lovely
Pink and Purple Collection
.
It's my second time making a hair accessory but my first time making this type of hair bow. It's called a Korker Bow, I thought it would super cute for my granddaughter, plus her favorite color is Pink. She's definitely Girlie. :D
Hope you all like it.
Here is the Korker Bow on a side view.
I just think all those curly ribbons look so pretty.
Here is top view. I really like the way this turned out.
Love how all the curls intertwine together.
The pink is so stunning!!
Here is the back. For the back of the bow I used a French Clip from the store.
I'm entering my hair bows in the following Challenges:
Creative Craft Cottage: Challenge #67 Eileen's Challenge - Incude a Lavender Ribbon or bow
Classic Design Team Open Challenge: 1st July 2016, Challenge #04 - anything goes
Craft your passion Challenge: Challenge 320 - Always Anything Goes
Crafting from the Heart: Challenge 120
Craft-Dee BowZ: July Challenge
You can find all
hair accessory items over at the Really Reasonable Ribbon store
.
So today I am sharing with you my very first hairbows I made with the
Pink and Purple Collection
.
hope you all are enjoying the Blog Hop and getting lots of fun ideas! :D Next you will want to head over to
Cherry's Blog
to see her wonderful project.